Oh hai. I'm back from jet lag, and yes, I mean what I just wrote. After two weeks in Korea, I landed back in the States the Monday before the Fourth of July, but it took until the following Monday until I felt like a normal, functioning human again — at least as far as sleep was concerned.
That is to say: this trip was a whopper, you guys. It's going to take me a long time to process everything I saw, experienced, felt, and learned. I'm not quite feeling ready to talk about the more personal aspects in detail online yet (don't feel bad; I've also been avoiding social interaction with everyone except Joe because I don't feel ready even in real life), but I know I will write about it all at some point. More on that at the end of the post. For now, just know the trip was really good, the reunion was successful, and I'm doing okay. Some days I burst into tears. It's all a process.
Today I thought I'd share a bunch of photos I took throughout the trip. There are a lot of events that I didn't photograph, so busy were we doing crazy activities like learning self-defense at a Korean police academy, teaching fifth graders how to play charades, or wandering through underground tunnels dug by North Koreans. But for the times I brought out my fancy new camera, here's what I was seeing:
a few days in seoul
The Gyeongbok Palace is a must-see if you ever find yourself in Seoul. As beautifully and intricately detailed as the buildings are, what blows my mind is that the entire thing has been rebuilt three different times. The first was the original construction in the late 1300s; the second, following the Imjin War in the 1500s. In the early 20th century, the Japanese demolished almost the entire thing, which when you walk around the grounds and realize how extensive they are, is incredibly sad. The palace as you see it today is still undergoing restoration, as it has been since the 90s.
I tried flexing my street style photography skills here, with limited success. But I was obsessed with everyone who had rented hanboks — the traditional style of dress in Korea. If you wear a hanbok, you can get into the palace for free, but even with such an enticement, I don't think you could pay me to wear one of these things on a 95-degree day with 90% humidity. It was hot, you guys. I wasn't ready for it, even after all my careful shopping and hydrating. This was the day I began developing a heat rash that wouldn't go away until we moved further south, near the sea. Back to my roots, indeed.
But the hanboks! Oh how beautifully they would flow in the breeze! I loved seeing all the colors and textures, and especially loved seeing women's sneakers or Birks peeking out from under them.
Foreshadowing! Little did we know we'd have our own run in with the police just a few days later…
bukchon hanok village
Before the tour officially started, I did a solo tour of an area in Seoul called Bukchon Hanok Village. The area of Bukchon (which includes lots of smaller neighborhoods) originally housed high-ranking government officials or royal court types. Many of the small homes, or hanoks, are 600 years old! From my understanding, the area has recently been redeveloped so that residents can live in the hanoks again. There was a big campaign underway to get tourists to shut up — you can see a "silence, please" sign in the image above. Let's just say that was among the more polite ones I saw! I can't say I blame the residents…there were loads of tourists wandering the alleyways, with lots of people stopping to take pictures on doorsteps. Then again, I also can't say this would be the wisest real estate investment if you wanted peace and quiet!
three little things
My first Sunday in Seoul, I spent the afternoon with a local family. This was set up through the tour, and was such an amazing way to spend time with locals, learn more about Korean culture and life from the perspective of people who have lived there and abroad, and to eat the best K-BBQ of the trip.
My family took me to the National Museum of Modern and Contemporary Art, not far from the Gyeongbok Palace (how did they know?). It was nice to be in the AC, but even cooler to see a museum that's still fairly new to Koreans, since it just opened five years ago. The exhibit above was one of the first we looked at. It's called Explaining Could be Exploiting II, by Yogesh Barve. From the artwork description I took a picture of:
Explaining Could Be Exploiting II addresses the difficulty of finding a clear-cut answer or a single correct way of interpreting an object or an event. Taking every possible flag representing each nation, the artist unraveled them in weft and warp threads. Once the fabrics are unraveled into weft and warp threads, however, it is revealed that the color threads making up different flags are actually not much different from each other. With boundaries blurred by the deconstructed flags, the seemingly absolute values, traditions and identities of each nation are called into question.
Your girl is a typography nerd wherever she goes. I took several pictures of signs in Korea, noting how even in Hangul, type forms are ever present. Serifs, sans serifs, brush scripts, calligraphy, handwritten scripts, cheesy styling that reminds you of Comic Sans — it was all obvious, even without Roman characters. I was fascinated by how tone and aesthetic could still be communicated with the same styles I'm so familiar with as I design with a Latin alphabet. Maybe another blog post on this down the line!
One thing I already miss about Korea is that there's really no differentiation between breakfast food and other types of food. If you want udon noodle soup for breakfast, you can have it, and with a side of kimchi to boot. Across from the tour group's hotel, there was a yachae jook (rice porridge) place that made this yummy, savory vegetable porridge that was a hit for breakfast. When I took this picture I felt like I'd eaten enough kimchi to last me a lifetime; it only took about two days back home before I was craving it again.
we hit the road.
After we'd spent several days in Seoul, our group hit the road. First, we headed north to the city of Paju, which sits near the border of North Korea. I took the above pic out the window of our bus as we waited to get into the Demilitarized Zone, or DMZ. It's heavily guarded and you have to show your passport, but otherwise, it seemed fairly straightforward (to be fair, I did not organize any of the details!).
One thing that is really interesting throughout the DMZ is the language on signage everywhere that alludes to reunification. Even on this sign above you can see it: Paju preparing for unification. For a place so heavily guarded, with clear military presence and a lot of hurt over what North Korea has done, the signs everywhere reflect hope.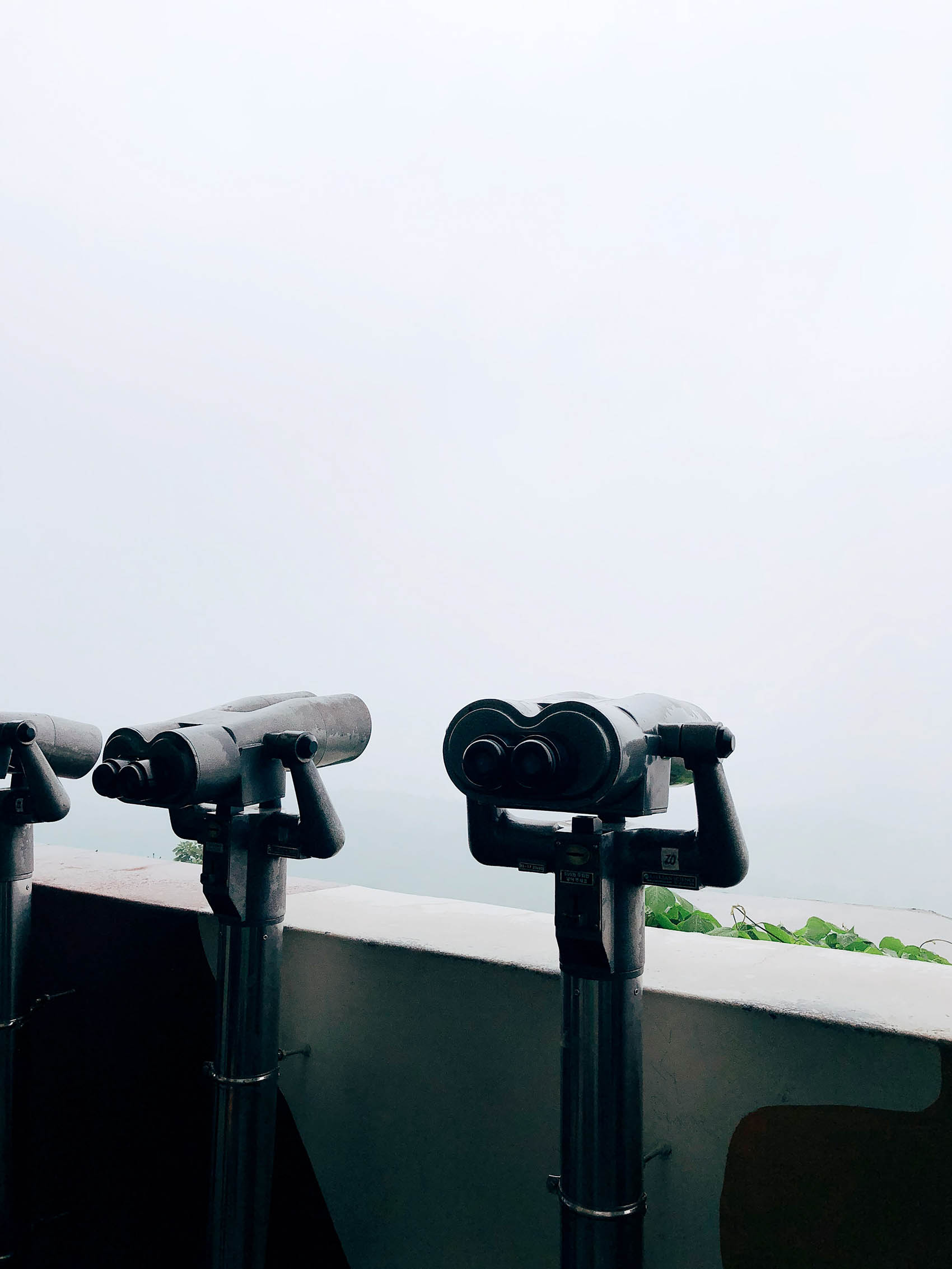 We stopped off at Dora Observatory, a place where you can use these telescopes to peer into North Korea. Our entire day in Paju was very rainy though, and at this point, we were so fogged in that you couldn't see more than ten feet out. North Korea remains a mystery for us…and so many others.
This is the main platform at the Dorasan train station, which opened in 2002. The goal was to have these tracks hook into the Trans-Asian Railway system, which runs throughout Russia and all over Asia. However, no trains run through this station because the tracks run through North Korea. I mean, how wild is it that this sign shows which way to Pyeongyang (the capital of North Korea), and which way to Seoul?! It's bizarre inside the station: there is a a ticket counter, waiting areas, information desk, all the things you'd expect to see in a train station. But the only people there are tourists, and no one has any luggage. There's also a DMZ souvenir shop! It basically looks like a film set of a train station, but when you remember it's a real, theoretically functioning one, it's pretty wild.
On the platform is a piece of the Berlin Wall. On the left is a dedication showing how much time passed between the wall going up and when it came down — 41 years, 4 months, 11 days. On the right is a counter showing how long it has been since Korea was divided.
After we left the DMZ, we drove to a place called Majang Lake, which features a long walking suspension bridge. Even in the pouring (and I mean POURING) rain, our group made the best of it and everyone made the trek to see the bridge — and walk over it! It was so beautiful here, even in the rain.
From the other side
Next in Paju, we went to the Damisol kimchi factory, which is one of the most popular producers of kimchi in Korea. Many households will make their own, but a lot of restaurants will serve Damisol. We got to suit up in factory gear, head to the main production floor, and prep fresh cabbages with the marinade. They said our kimchi would be ready to go in about a week!
the journey south.
On the journey south to the city of Pohang, we stopped in the town of Choongju, to visit the Central Police Academy. In Korea, all males are conscripted, so you serve either in the military or the police force for a few years after you turn 18. I don't think anyone really knew what to expect this day, but it was among our group's favorite! We learned self-defense wrestling techniques from a badass FEMALE instructor (I believe the only female instructor at the entire academy), shot taser guns, had four volunteers from our group get tased (don't worry, it was a quick arm thing and everyone was fine immediately after), and were treated to an hour-long concert by the cadet band.
This probably sounds like a really weird day. But it wasn't! There were a lot of interesting differences between Korean police and American police, and it was an honor to meet everyone there. Our tour director gave a lecture to a group of cadets, and not a single one of them had ever met a Korean adoptee. Giving them the context of meeting us and having them learn our stories means they might be able to help another adoptee who comes into one of their stations one day, looking to do a DNA test or file a missing persons report.
After the police academy, we drove south to the city of Pohang, which is a coastal town that sits on the southeastern edge of the country. There we stopped into a local fish and produce market where we saw the expected…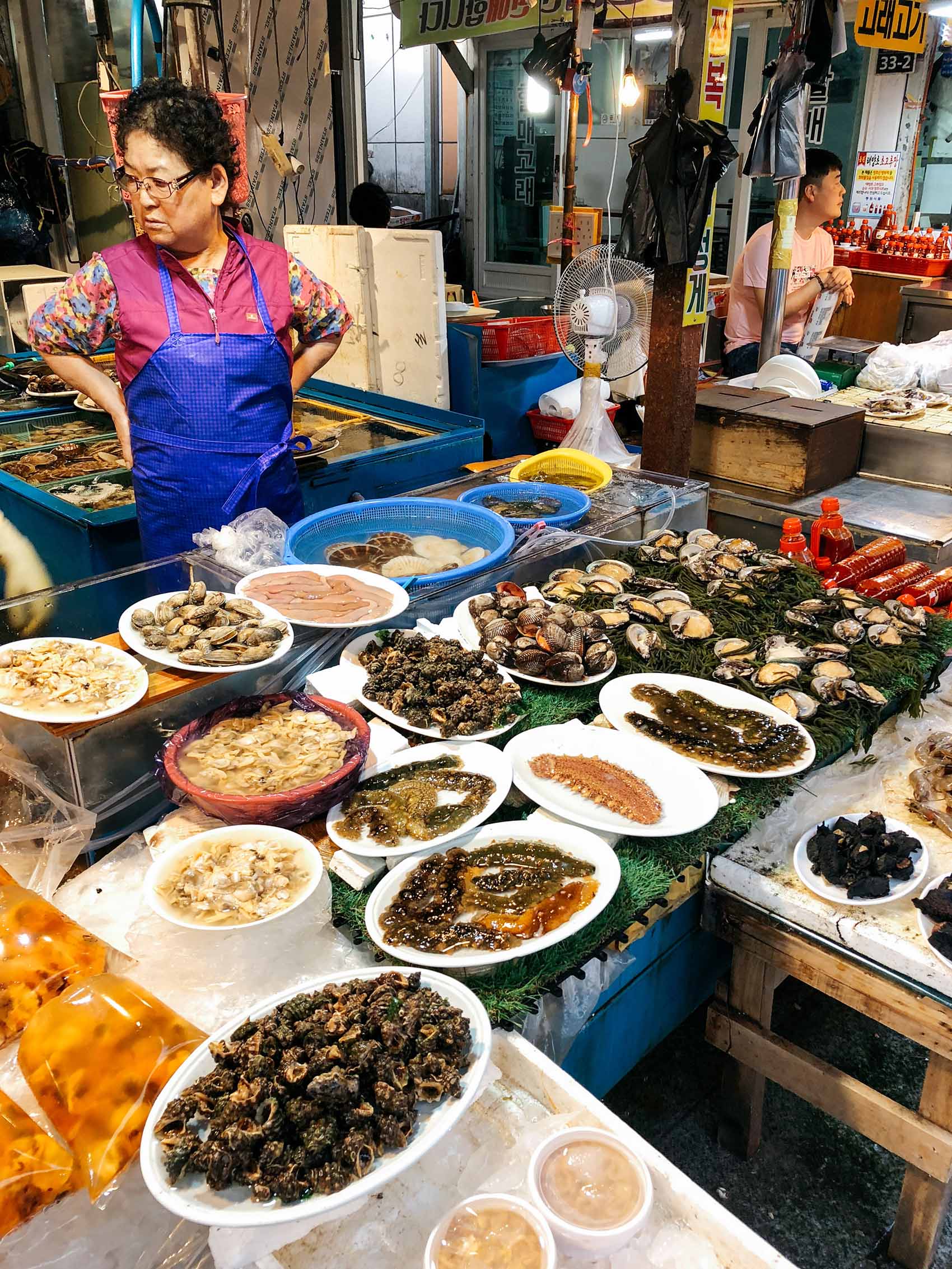 …and the very unexpected. Has anyone ever tried sea cucumbers before?? Or those, um, fleshy looking things? (They're Urechis unicinctus. Google it. I don't think I could eat it, and I'm pretty adventurous.)
The day after we arrived in Pohang, we awoke to a rainy morning. On this day, two big events were on my schedule: teaching a class at a local elementary school, and then driving a few hours further south to meet my birth mother in the evening.
homeland
I'll save all the details and stories of the reunion for another day, but here are some photos of the area near where I was born, and where my family is from. Turns out, my gift was a good one — this place looks a lot like Northern California. My birth family and I couldn't believe the similarities.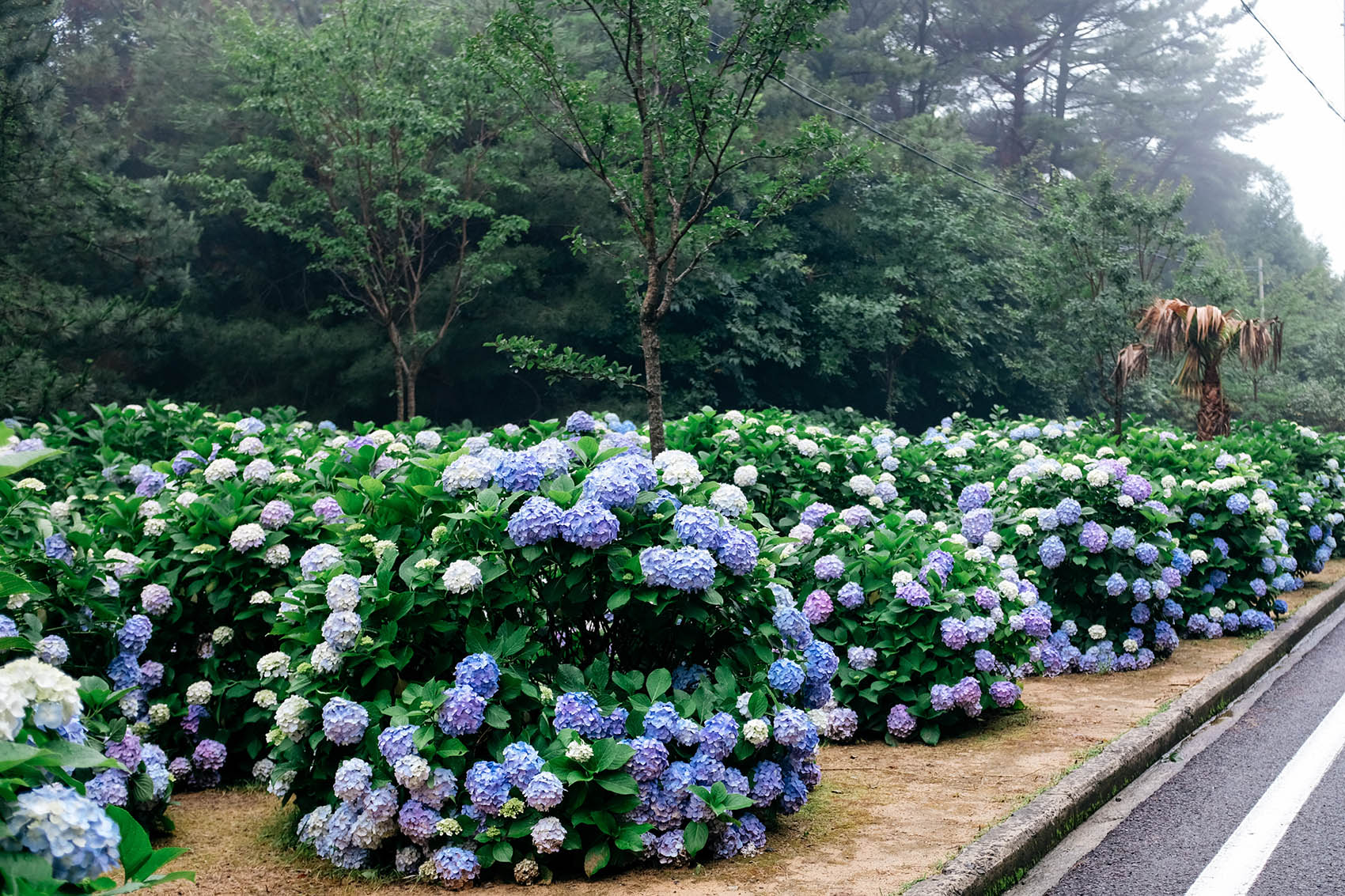 On the island where I was born, hydrangeas grow wild, everywhere. They line the roads and dot the hillsides and you can see them in every shape, size and color — even a few shades I'd never seen before. Along with the fog that had descended over the hills on this day, the flowers lent such a magical quality to our drive. In some areas, the hydrangea bushes were easily taller than I was!
---
So that's a little bit about the trip in a nutshell. A lot of you guys have been following along with my Origin Stories series since February, and I just wanted to say I'm so appreciative to everyone who has commented, emailed, or reached out via social to express their interest, support, love, and good wishes. It really meant a lot these past few months, and of course while I was there!
Earlier this year when I took that writing workshop, I got an idea to write something related to this journey. What started out as an idea for a series of fictional short stories evolved into something else. It's scary to write this because I'm nervous about it going nowhere slash never finishing it, but I'm currently working on a book proposal related to my story. My goal was to return from the trip and take some time in July to just focus on that project (as well as just giving myself space to process), and luckily, my clients have been so kind and accommodating (I really have the best clients ever!). I'm not sure where this work will go or if it will ever amount to anything, but here goes nothing. I'll share updates on this when I can…for now, my only goal is to write!
If you made it through this mega post, thanks for checking in! Let me know if you have any questions below, and I'll answer as best I can! A couple folks who either are Korean adoptees or have Korean adoptees in their families have reached out over the last few months. If you want to learn more about the tour I went on and why I chose it, please feel free to email me or comment. It was truly the experience of a lifetime.