Since moving in over two (!!) years ago, our bedroom is the only space in our apartment in which we've done very little decorating. I know, I know — one would think we'd have made it a much bigger priority given how much time we spend in there! Maybe subconsciously we were prioritizing the rooms where we spent most of our waking hours (my office, the living and dining spaces). Maybe it wouldn't have been subconscious had we been getting a great night's rest in a cozy bedroom decorated to perfection. Hmm.
But all this to say, when some 6 year old grey Euro shams and our favorite sheets recently started showing serious signs of wear, I knew I'd been putting off the inevitable. It was time to invest some money and replace our bedding. Which led me straight down the rabbit hole, as I'm now on a mission to finish up the rest of our bedroom decor, FINALLY.
I started with bedding because, hello, easy fix. Earlier this year, I bought some new pillows for our living room couches, chief among them these Sevilla pillows. They've been my absolute favorite of the bunch. The navy color is so beautiful, and I love the simple crochet detail that makes them feel interesting, but not too busy. Joe — whose idea of hell is spending a lot of money on a throw pillow — actually said they were his favorite pillows I'd ever bought. It planted a seed: after MONTHS of looking for new decorative Euro shams I liked well enough for our bed (no joke, I remember searching during Black Friday sales last fall), I finally told Joe "eff it" and opted to order a second pair of the Sevillas for our bedroom. Is it weird we have the same pillows in our living room and bedroom? I don't care. I seriously love them.
(PS, I bought these inserts for them separately, and they're fab. You need to buy inserts that are an inch or two bigger than the size of the throw pillow case to get maximum fluffage.)
While I was at it, I bought a set of Serena & Lily's Beaumont sheets. We already had a pair of their embroidered Gobi sheets and we really liked them. But I have to say, these are even better. I believe the thread count might be a touch higher, and the fabric a different blend or weave or something. They're fantastic. For these pictures, I painstakingly ironed most of the bedding so that it'd look all purdy (ugh, more on that in a sec), but even fresh out of the dryer and a little wrinkly, they feel really great.
I know I'm waxing poetic about all this Serena & Lily stuff, so let me pause here and clarify that no, this isn't sponsored! However, I did take advantage of S&L's Memorial Day sale at the end of May. I was hoping to get it together in time to tell YOU GUYS about the sale too, though no such luck… BUT, in a serendipitous turn of events, this past week they announced a 20% off all bedding sale! Perfect timing indeed, as we'd been sleeping on the sheets and I was excited to tell you about them anyway. So if you too are in the market for new sheets, check out their stuff here, and get the discount with code DREAMWORTHY (also, the code can be used on their sale bedding!).
For the duvet and king shams, I wanted something simple and timeless. I don't love bedding with lots of crazy patterns or colors; something about a clean, crisp white bed feels most inviting to me. In early May, I happened to catch a Pottery Barn bedding sale online (I'm good at this, I guess?) and got this duvet and these shams. Simple, elegant, husband approved. Plus, I like that if I wanna add just a hint of color or pattern down the line, I can always do so with sheets.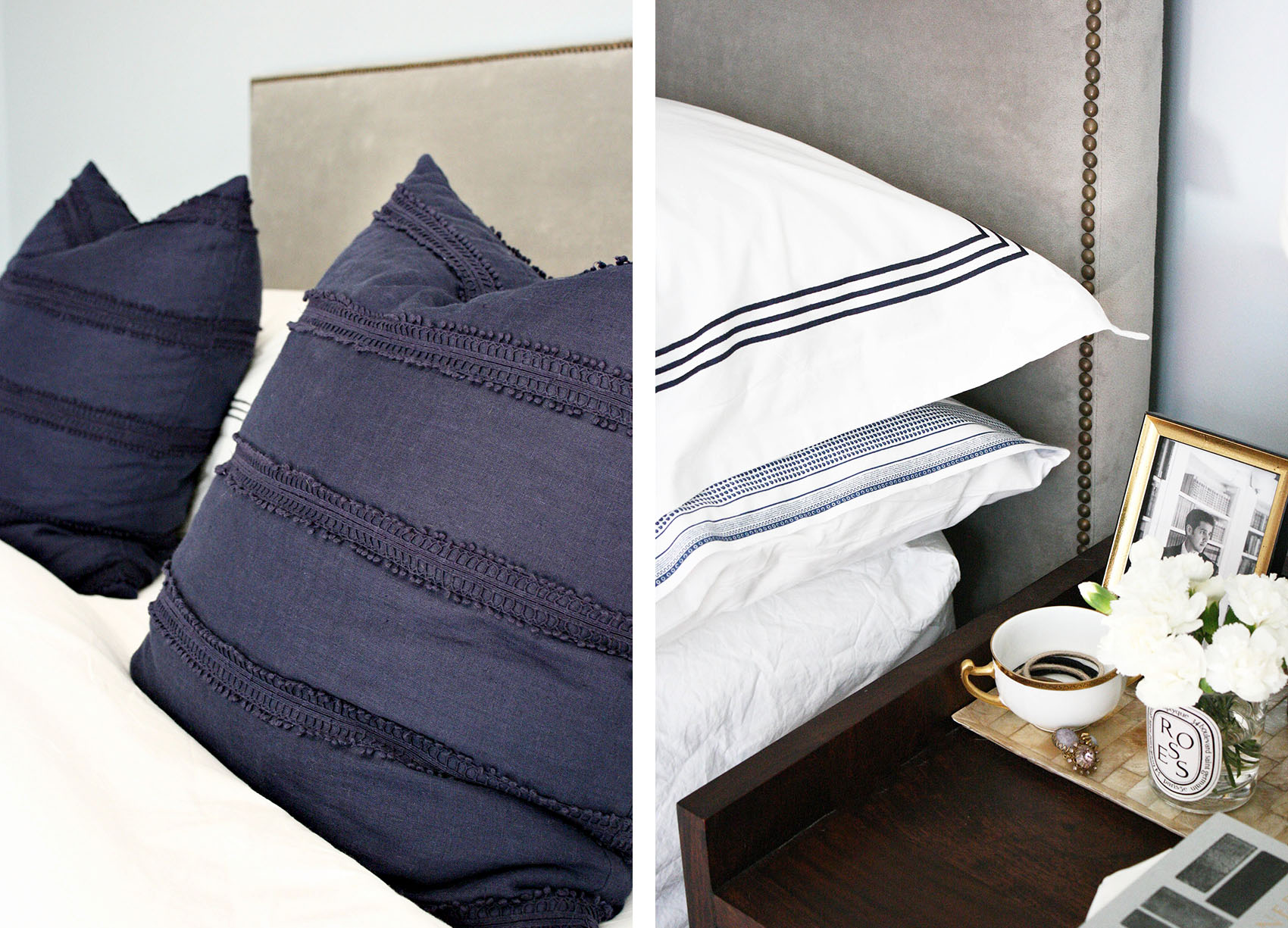 Hey, you notice how the bedding looks pretty nice and pressed and not wrinkly (except for the fitted sheet)? That's because I ironed everything to make it look nice for this post. I'm cray. It was a good workout, and man did I ever catch up on my DVR while doing it. Serious question though: do you ever iron your sheets? I do it maybe once a year when I have some time and also want to treat us to the ultimate luxury of getting into a bed with ironed sheets. But it's so much damn work! If you do iron your sheets, what's your method? I made the mistake of Googling how to iron king size sheets after I'd already finished, and it seems like folding and ironing is the way to go. Or, people iron their sheets on the bed? If you're a crazy person like me who's willing to go through all this just for a super soft bed, please share your secrets.
As I mentioned back in this post, we're working on getting some photographs printed and framed for the walls (which, up until this point, have been embarrassingly bare). In case you're wondering, my Mendocino photo project was a resounding failure. Primarily because I forgot to bring my big camera with me on the trip. Do you know how dumb I felt when we got to our rental and I realized I hadn't packed it? Womp womp. But to be honest, I really fell in love with this image I shared with you guys in my previous post. Since it's not a licensed image, I've decided to get it blown up and use that as the large piece on the far wall. Joe really loves it too! Then, above the nightstands, I want to do a 2-frame vertical stack of images I've taken over the last few years at the beach. I have a large number of photos with sand textures, pretty beach vistas, and other waves we can use. So I guess I didn't need that stupid big camera after all! Once the images are up and we get a matching set of lamps for our nightstands, we should be good to go on that front.
The last "dream" project I'd like to tackle would be to re-cover our orange chair, which you can see in the corner by the windows. I think it adds a lot of energy to the space, but since everything else is going blue and moodier and more masculine, I think it's a good opportunity to mix in a pattern (Rebecca's fabrics always get me inspired!). Joe isn't a huge fan of this idea right now as he adores this orange chair, so it might be a project for down the line (i.e., I nag him enough until he doesn't care anymore, haha!).
Anyhoo, that's where we are on this last space in our apartment. Art, lighting, maybe re-upholstery, and we'll be looking pretty good. As you guys know, I am the world's SLOWEST decorator, just because I like to really love something before I buy it and it's important to me to include Joe in the process too. I'll check in in another two years and show you the finished space (kidding…kinda!).