Update time! I thought we were well overdue for a look at how my office refresh is coming along. You might've noticed, but I'm totally the type of person that tends to decorate over time. I'm also the type of person that is never really finished with a space, since I'm always reconsidering how things could be put together. Which, as I'm sure you can imagine, Joe LOVES.
But as much as I wish I could bang out decor choices in a weekend and have it all "done," I've realized I need to live with things for a (long) while to figure out what changes need to be made, how a space makes me feel, and what all needs to be added. So with that in mind, I wanted to share where the process has taken me thus far! I'm also gonna keep it real and show you the room as it really is, with a stray dog toy here and there, office supplies peeking out from corners, and wires and cords going every which way. Yes, I'm still working on a solution with those!
Ok, so. You might remember where we left off from this post. The office was looking pretty bare, and I'd recently moved some of the bigger pieces around.
Now…
It's slowly starting to take shape! I ordered two more linen pinboards and switched the orientation so that the three of them hang lengthwise, in a series. I hung these all by myself with a ladder, a huge level, a power drill, a fair amount of sweat and swearing, and LOTS of patience. Not gonna lie, I was pretty proud of myself!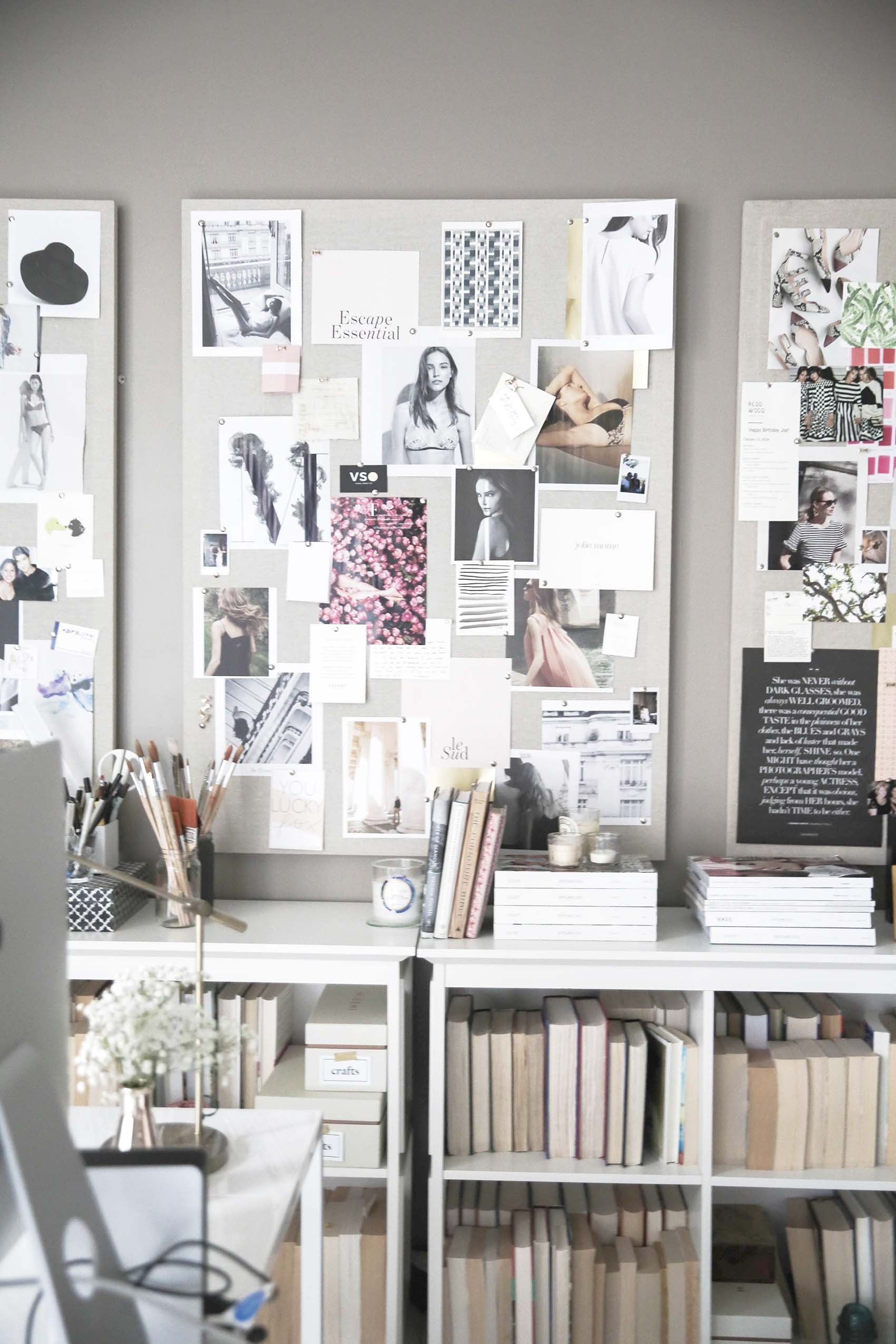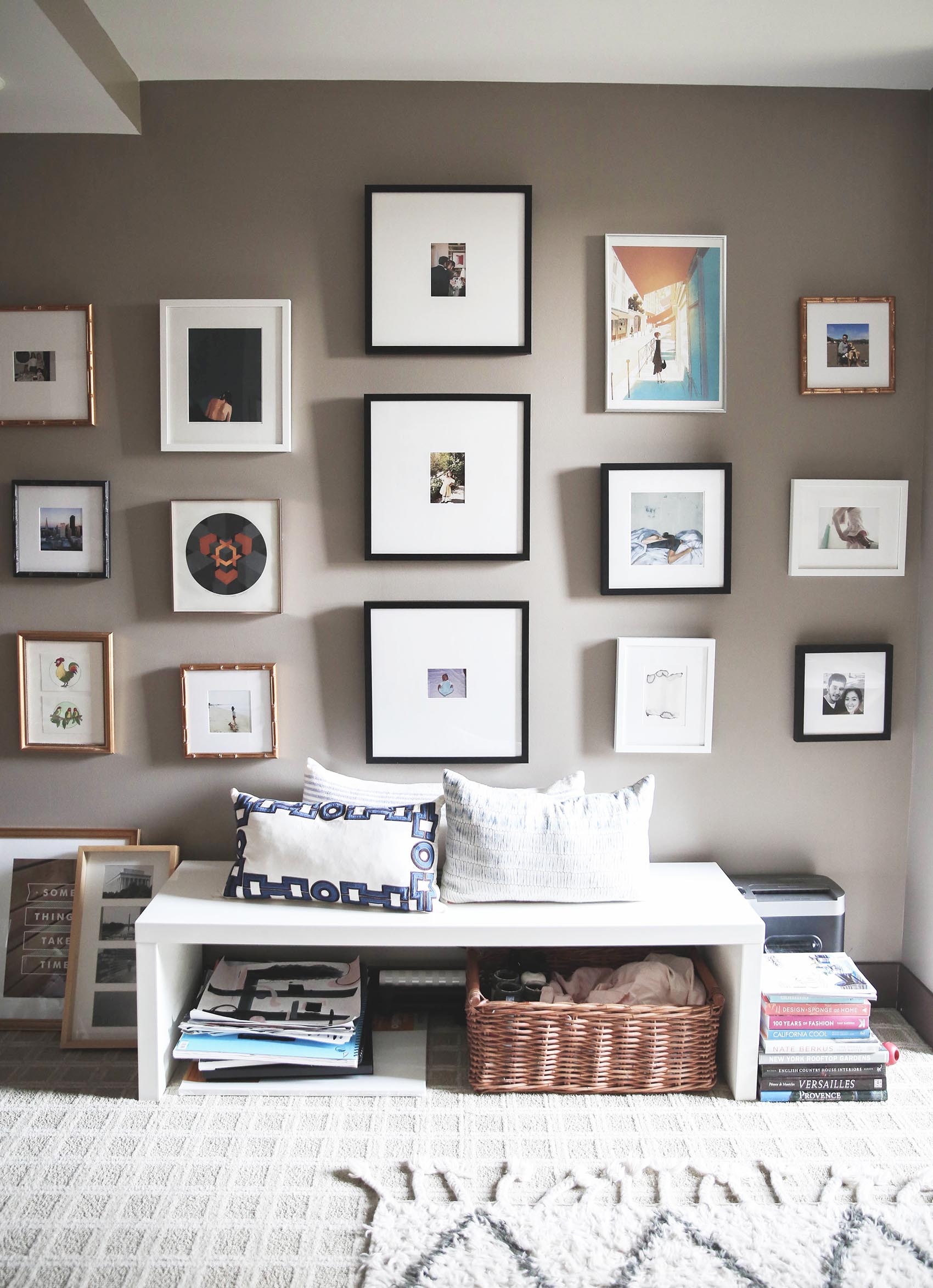 It's taken me a while, but after three separate Framebridge orders, I finally felt I had enough photographs and pieces of art to hang up on the wall facing the shelves/pinboards. I hadn't put a gallery wall in my home since about 2011 (I dunno, I went through a phase where I felt they were so ubiquitous, and I was over it). This time around, I made sure to incorporate a lot more pieces that felt really personal.
There are photographs of my family and me that I discovered when I was at my mom's house this past summer — I'd never seen any of them before, and it was neat to "see yourself" for the first time, if that makes any sense. Combined with some of the Instagram minis I had framed, along with a piece of art that used to hang in my dad's office and some other little treasures I've collected over the years, I really love how the wall came together. Like I said, it feels so much more personal to my life and memories, versus previous galleries I've done, with a mix of prints I had purchased with less thought and intention.
PSA: After looking at these pictures, yes, I realized the watercolor artwork is completely crooked. Don't freak — I fixed it.
I've resigned myself to the fact that my paint supplies will just have to live under this bench. But I personally like the "organized mess" look. I also still have this stack of books sitting here. My new plan is to try and find a pretty pot or plant stand that I can put on top of the stack. And, I still need to find a better home for this damn paper shredder!
The desk situation is pretty much the same! We were at Target in August and I found this cute little brass lamp. It's the perfect size for my desk, and I'm so glad to have spotted it in the mess that is the Target lighting department — I'd really been needing a small task light.
One very small update I made was to create a unified set of storage boxes over in the bookshelves. Always the font nerd, I printed out these labels using one of the studio's brand fonts. I applied them with Scotch tape and some gold washi tape for an undone, crafty effect. If you can believe it, the boxes are actually all shoe boxes from M. Gemi. I try not to think about the fact that I have this many shoe boxes from them… But really, their color scheme couldn't have been more perfect for my space: cream colored with a little coppery gold detail around the lid!
Behind my desk, I placed the Terrace console from West Elm. This is one of those things that feels so new in the space, I'm still trying to decide the best way to style it while also using it for storage. For now, it's holding some of my chinoiserie pieces, a painting I'm slowly working on, and some recent decor book aquisitions. I'm thinking about getting some type of small bin to place on the bottom to corral additional office supplies, but all in good time!
The top of the bookshelves continues to be a rotating assortment of candles, books I'm reading, and office supplies. This little pink book with the floral design on it is an extra special piece that I'll probably always display — it's a baby book my mom made for me when I was little, and includes all these fun old family photos. I also have this thing with collecting September issues of Vogue. I'll admit, I rarely read the magazine otherwise. But September always ushers in my favorite time of year, and I love browsing this mega issue every autumn (as much for the ad campaigns as for the editorials).
We shot these photos in the early morning, when unfortunately, the studio gets its lowest light of the day. But with all the lamps and a large window, I'm lucky that through the afternoon, it's usually pretty bright in here! If we were to rent our apartment for another 2 or 3 years, I might eventually bite the bullet and paint the space a lighter color. The apartment owners previously used this space as a bedroom, and the warm gray color is soothing and lovely for sleeping — less so if you want an airy workspace. But I'm okay with it for now, and just happy everything has a place.
So that's where I am with the space as of now!
//
Here's what's still on my To-Do list:
+ Purchase a new desk chair, so I can finally return this one back to the dining room. I've honed in on this one for a more traditional desk chair look, and this one and this one if I want more of an accent piece. Main goal: find the perfect one that'll be comfortable all day and fit under my desk with no issues!
+ Decide on a rug. I'm not really in a huge rush to buy a new one, but just like the paint, were we to live here for several more years, I think it'd become more of a thing for me.
+ Create or purchase artwork for above the console. The wall behind my desk is pretty blank as of now, and there's a vent I wouldn't mind covering up…
+ THESE CORDS. I'm still working on a cord management system. I found some cool solutions at Container Store (and even this interesting cable bin and box), but given the way outlets are spaced in the room, I don't know if any of them will be the right fix for me. Working on it.
+ Plants! We recently bought a big new house plant for the living room, and it made me realize I really want some greenery in the office too.
+ It's low on the priority list, and might be something I never get around to, but I'm also thinking about having a cushion made for the top of the white bench. I thought it could be a good opportunity to add some color, soft texture, and pattern. Becca's new book inspired me!
Things I've given up on:
+ Installing additional lighting above the pinboards. I think it would look cool, but for the time, expense and effort, I realized I was happy with the table lamps. Maybe once I get artwork behind my desk, I can always install a small art light above that for additional lighting/interest.
+ Sourcing and purchasing extra seating for in front of the desk. We just don't need it, and it would be a tight fit. Plus, that's prime real estate for Lucy to stretch out and play with her toys!
//
Sources:
//
That's all for now! I'll continue to update you guys as the space evolves and gets even more lived in. Thanks for coming along on this mini-tour today!