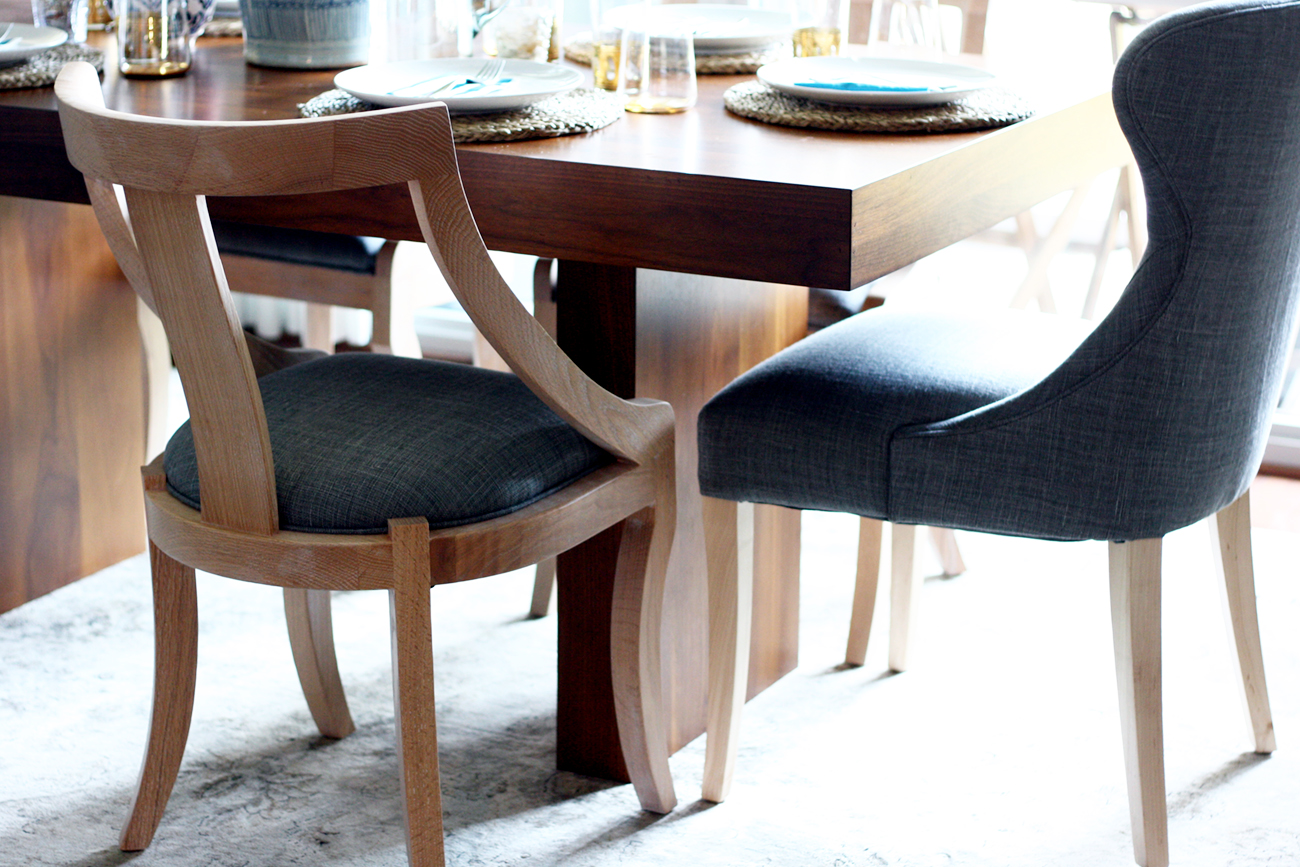 Fun decor updates to share you with you today — our dining room has finally come together! We received our new custom chairs from Serena & Lily about a week ago, and have been busy breaking them in by eating at the table nearly every single day. It's such a small thing, to be able to pull up to a table and eat a meal in your home, but boy have we realized how much we missed it. The chairs were the last piece we needed before really being able to enjoy this space, and we're so happy with what we picked.
Remember how earlier in the summer, Joe and I had been debating between two chairs, the Grace and the Josephine (he liked the former, I liked the latter)? Well, Kathryn from Serena & Lily convinced us to mix them, with the Graces at the heads of the table and the Josephines in between. It ended up working so well, because not only did we each get a piece we liked, but we love the way the fully upholstered Grace bookends our dining table. It's a great blend of feeling traditional, but still casual and modern. Because while the shape of the chairs — especially Grace — is more formal, mixing and matching feels like it brings it all down a notch, so it feels like an "everyday" space!
Now, on to a few unexpected details I really love about these pieces:
When we received the chairs, I noticed all of the legs had unique, interesting graining patterns on them. Like this leg above — I really like how each one feels special, and I LOVE seeing this type of organic detail. There's other tiny things too that I hadn't noticed in the store, like this simple notch detailing on the Josephine:
It's really neat to see the craftsmanship and skill that went into shaping and forming these chairs. As you can tell, we picked this beautiful linen fabric, which is grey, but also has a lot of blue in it. The fabric has great visual texture, and we also selected it because it felt durable and seemed like it would do a good job of hiding minor stains in the years to come.
We are so thrilled with our new chairs and are already working on planning our first official dinner party in the new space! If you are in the market for some dining chairs — or any other type of custom upholstery piece — I can't recommend Serena & Lily enough. Everything was really seamless, from placing the order, to communicating with the delivery warehouse, to receiving the actual items.
And even if you don't need any large pieces of furniture, here's something that might pique your interest: just for Victoria McGinley blog readers, Serena & Lily is kindly offering 20% off your entire order from now through September 15! You can use it on virtually anything — new decor items, throw pillows, table linens, entertaining pieces, new sheets and duvet sets, and even custom upholstery items like we ordered! To get the 20% off your order, just use the code VICTORIA20 when you check out. It will be good through 9/15. I might even use it myself to pick up a set of these pretty striped sheets — we have the S&L Gobi embroidered sheets already, and love them!
Thanks to Serena & Lily for providing us with new dining chairs for this post. All opinions are my own.