As I mentioned last week, there has been a distinct lack of dinner parties around these parts, due to our distinct lack of dining chairs. We purchased our new dining table — the Terra, from West Elm — about a week before moving into our new place, but we couldn't decide or agree on chairs to go with it, so we held off. Then held off some more, and some more, until our now-stained coffee table made it very clear we should probably get a move on and eat at an actual table!
I love my husband dearly, but one thing we always end up arguing over is home decor. Do any of you have this issue with your significant others too? He isn't the type to give me carte blanche and let me run with whatever I think "our" style is; he really likes to be involved and decide on furnishings together. It's great that he wants to be a part of it, but since our styles are extremely different, it can make for a slow process (and note: we are learning to not immediately say "That's ugly" to each others preferences. Trust me, this #1 rule helps!).
One day, I saw the beautiful Josephine chair online at Serena & Lily, and thought it would be a perfect chair to blend each of our styles. I wanted something that wasn't completely upholstered, while Joe liked the look of a more formal chair. I liked that the Josephine had lovely curves, could look good in a more modern or traditional room (so still workable down the line, if/when we move again), and had just a dash of upholstery, so we could choose a fabric to bring in some additional color and texture to the room. I showed it to Joe and he…liked it! Sort of. Okay, he said it was "Alright." And then, he laid eyes on the Grace — a fully upholstered chair that is definitely stately and traditional. Oy. 
Serena & Lily opened up a design shop here in SF while we were living in New York, and I hadn't stopped in yet, so it was the perfect opportunity to check out the shop while also getting a closer look at Josephine and Grace, see the fabrics we could use, etc. The S&L Design Shop is unique in that it's not a retail shop, even though there are plenty of beautiful pillows and other home decor accessories on hand to tempt you. Instead, clients simply go in to get a feel for the products, then can order everything in store. Serena & Lily is known for their patterns and fabrics, and you can access the entire library there and even take home samples for things like wallpaper, bedding, or in our case, custom chairs. I didn't realize how big of an impact this would make on our decisions, but it really does. There's nothing like seeing a fabric or a pattern/color in person — you just can't substitute it for looking at swatches on a computer monitor.
On the day of our appointment, I brought in a Pinterest board with our ideas, as well as photos of the current dining room. Our design advisor, Kathryn, took a look at everything, then began pulling down some different chair samples for us to sit in and test out. It was extremely helpful, because it actually sold the other person on the chair they hadn't preferred — Joe warmed up to the Josephine more, while I could admit the Grace looked lovely in person. (Like I said, oy. Design is a job with us, that's for sure). We debated about which chair to get and finally came to a consensus…BUT I'm going to wait to surprise you on that once we receive them! In any case, the next step was to select a fabric, and we had a great time comparing samples and thinking about how everything would come together in the space.
Once all the necessary decisions were made, I wandered the Design Shop a bit while Kathryn put the order together. It's a really gorgeous shop — here's my insider's tour of the Serena & Lily Design Shop:
The shop features samples of many of S&L's most popular furniture items, including bar carts, accent tables, and poufs. It's nice to be able to go in and get a feel for the scale and look of a piece before committing!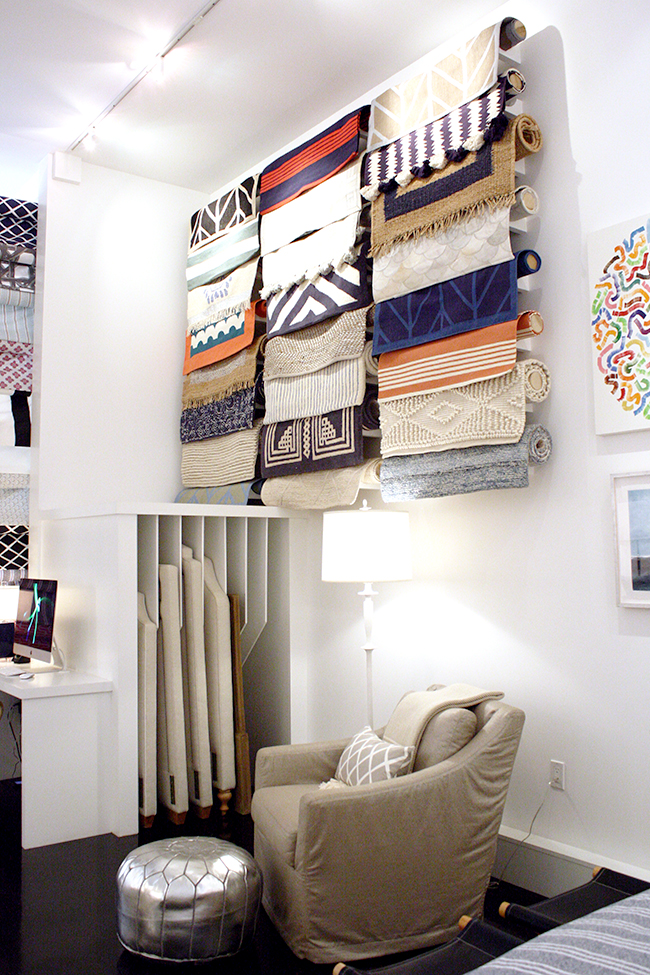 The company rotates how each of the shop spaces is decorated, to feature different products or highlight seasonal offerings. I LOVED the way the bed above was made up — that red fabric is probably something I would never pick out for myself, but seeing it with the crisp white linens and accents of dark navy blue and grey stripes sold me. You can also pop into the shop if you want to look at any of the headboards or rugs in person, which I thought was cool.
The front of the shop features all the smaller decor items, like pillows, bathroom accessories, and blankets. Note: those drawers at the base of the cabinetry are FULL of fabric samples!
It was surprisingly fun chatting about fabrics and finishes with Joe! I think having a design referee advisor there really helped. We went back and forth on colors forever, but I'm excited about what we picked. The chairs should arrive in early August, and I'll share our finished dining room (finally!) with you then. Cue the house tours!