Alright, so I feel like I've been living under a rock, but recently I saw an ad in my Facebook news feed (ugh, they do work!) about this new-to-me brand called AYR. A bunch of my friends had already liked the page, the photo styling was rocking, and I'm pretty sure I wanted the shirt that was being featured. Remember how in last week's Answers post I was talking about how inspiration typically comes just by surfing around the internet? AYR is a perfect example of that. I clicked through and was insta-inspired…and I wanted everything!
If up until last week you've been my roommate under said rock, AYR stands for All Year Round. The label describes themselves as "a label for women who can't be labeled," making "slow fashion, fast." One quick look at their Essentials round-up, and I was in love. As I said to Joe, scrolling through this page is basically like looking at how I dress on a daily basis (or at least, wish I could dress 100% of the time): lots of neutrals, elevated basics, classics with a modern twist. I've been all about building an easy mix-and-match "capsule collection" style wardrobe over the last 18 months, and there was so much at AYR I wanted to add to the mix. Of note:
Their outerwear looks lovely! I can't tell you how long I've been looking for a simple camel coat like this one, and spotting AYR's "robe" version had me wishing we could skip the summer and head right into October. I would find many an excuse to wear this gorgeous silk trench dress, which (genius!) doubles as a lightweight coat too. The beautiful silk Atlas top is totally the type of thing I like to wear daily — easy and comfortable for working at home, but throw on a pair of dark jeans or black cigarette pants, and you're ready to meet friends for drinks. And this linen blazer is the type of easy piece I'd wear to death in the summertime (I might still order it, since SF's traditional indian summers mean this one would see a lot of use into the fall).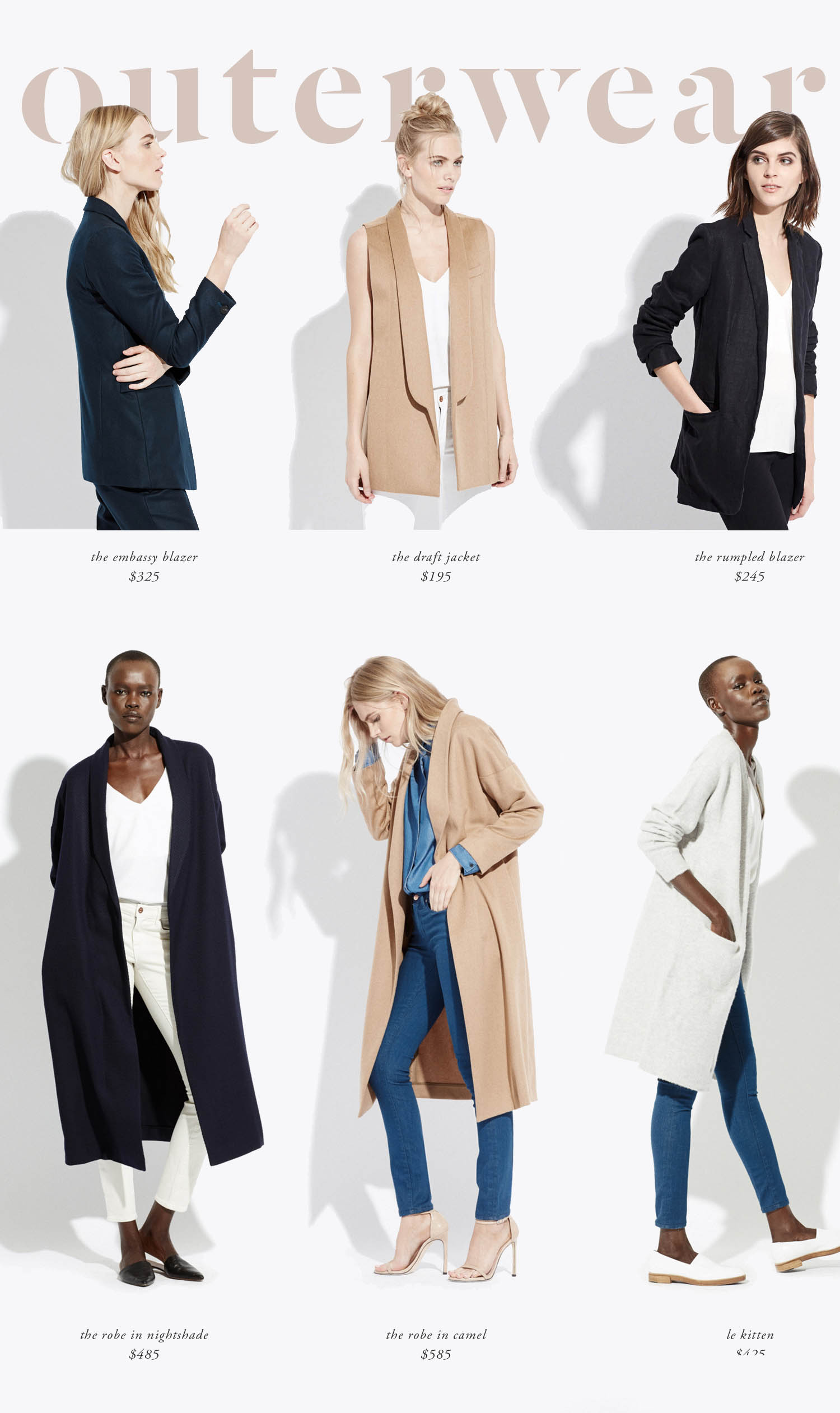 AYR also carries some good lookin' denim. I LOVE that you can select your inseam size along with your waist size, because for a short gal like me, "ankle" denim always equals regular length denim and regular length denim equals a trip to the tailor. They have a program where they'll send you three sizes of their popular "The Skinny" jeans, each for $1, then you send back what doesn't fit. Cool.
Was AYR on your radar? What are your favorites from the collection?