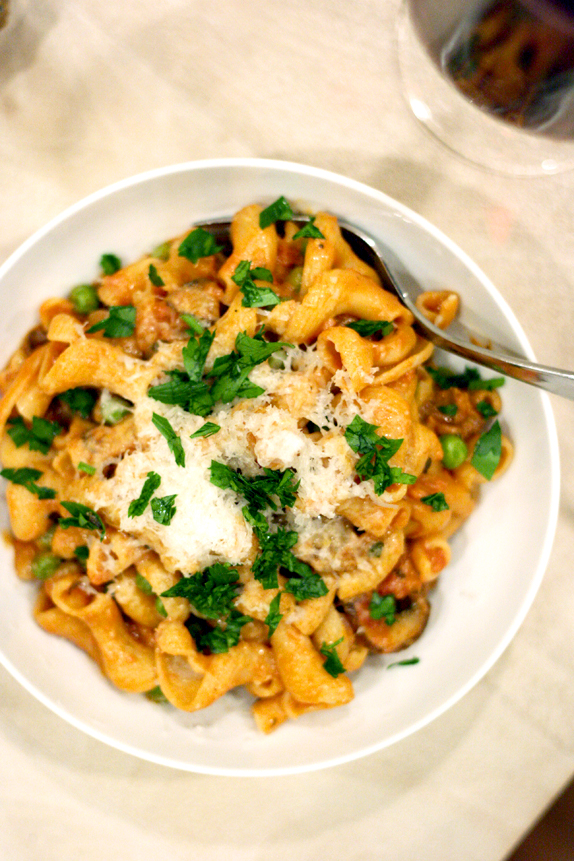 And then there's the opposite of eating salads and pretending that you're paleo. There's pasta. With cream sauce. And pancetta. And you know what? It's glorious, and everything you imagine it will be. Even more so when you've been eating too many salads.
I made this a couple Fridays ago, when the mister was having a down day, and requested something that would soothe the soul. Specifically, he said, I want pasta. You were aware that pasta was soul soothing, weren't you? We used to go to this restaurant in SF for anniversaries, and they had this pasta on the menu that was doused in the richest, creamiest porcini tomato sauce, and dotted with big chunks of pancetta. I was totally inspired by that and decided to re-create it at home! Mine wasn't quite as rich (I realized HOLY BUTTER AND CREAM — their version really IS decadant!), but nevertheless, was so satisfying. The good news is that while this is total comfort food, it's easy to make, so you can whip it up on any random Tuesday when you need a little hug in the form of carbs. And, you can substitute any shape of tube pasta you want — rigatoni, penne, even farfalle would be really great!
Give it a try! And let me know if you do. Here's how to make it:
Pasta with Tomato Porcini Cream Sauce, Pancetta and Peas
Serves 2 very, very hungry people; 4 as a smaller portion
1/2 oz (about 1/4 cup) dried porcini mushrooms (see note)
2 slices of 1/2″ thick pancetta, cubed
2 tbsp extra virgin olive oil
1/4 lb (about 6-8) cremini mushrooms, stemmed and sliced
1 shallot, peeled and sliced
1/2 cup dry red wine
1 jar of your favorite marinara sauce
1 lb tubular pasta noodles (rigatoni, penne, cavatelli, etc)
5 oz (1/2 box) frozen peas
2 tbsp butter
1/4 cup + 2 tbsp heavy cream
— kosher or sea salt and freshly ground black pepper
— grated parmesan cheese and chopped parsley, for garnish
Place the dried mushrooms in a small bowl and cover with very hot water. Set aside and let them rehydrate for at least 10-15 minutes.
In a large Dutch oven or heavy bottomed pot, combine the olive oil and the diced pancetta (note: in the photos below, I had made the sauce in a big pan — but I wished I had done it in a pot by the end! You need plenty of room to make the sauce and add pasta). Turn the heat on to medium low, and render the pancetta until it's released much of its fat and has crisped up. Carefully tilt the pot and remove some of the fat in the pan with a spoon or a big bunch of paper towels. You want just enough fat to thinly coat the bottom of the pot.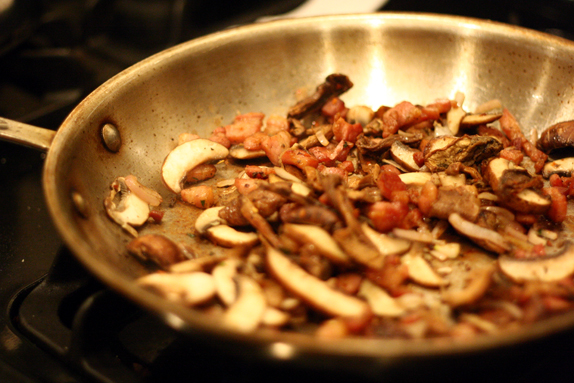 Add in the sliced cremini mushrooms and the shallot to the pot. Saute for 3-4 minutes, or until the mushrooms have absorbed some of the fat and are turning brown, and the shallots are softened and fragrant. Pour the red wine into the pot, and scrap the bottom to remove any browned bits. Reduce for a minute or two, then pour in the marinara sauce. Measure two tablespoons of the water the porcini mushrooms have been soaking in, and add this in as well. Then, drain the porcini mushrooms and add them to the sauce. Cover the pot, and simmer for at least 15 minutes.
While the sauce simmers, prepare the pasta according to package directions in heavily salted water, subtracting 2 minutes from the total time it's recommended to cook. About five minutes before the pasta is finished cooking, add in the frozen peas, the butter, and heavy cream to the sauce pot. Stir to combine, and taste for seasoning; add salt and pepper as needed.
Once the pasta is finished cooking use a spider to add it directly into the pot of sauce. It's okay if you get a little pasta water in there — it'll only make the sauce better. Toss the sauce and the pasta together and let cook for a few more minutes, so the pasta can soak up some of that glorious sauce and finish cooking.
Spoon the pasta into bowls, top with a little grated parmesan and some freshly chopped parsley, and dig in!
A note on porcini mushrooms: these suckers can be tough to find fresh, and whether fresh or dry, they can be pricey. Look for a very small container of dried ones, or even better, a place that will sell them to you in bulk, so you can buy just what you need. For reference, I found some at an Italian specialty grocer near me, and they were $96/lb. The amount that I actually purchased and took home was only $3.50, if that tells you how much you really need! It's not much — they pack a huge, very deep, earthy flavor.
Images by Victoria McGinley for vmac+cheese