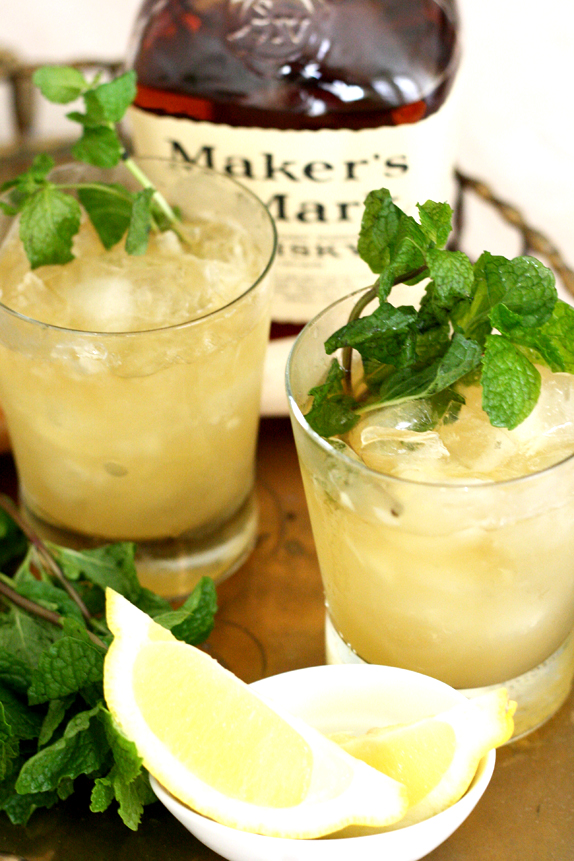 Joe first introduced me to the whiskey smash when we were living in San Francisco. We were out somewhere, he saw one on the menu, and told me we had to try it. I had never heard of it, but as it turns out, it's a pretty classic and historic cocktail — I always give bartenders double points if they know it! What's in it? It's kind of like if a whiskey sour and a mint julep got married and had the most delicious, refreshing baby (wait, does that sound weird?). The cocktail consists of muddled lemon, simple syrup, and mint, topped with bourbon or whiskey, shaken, and then poured over copious amounts of crushed ice. And emphasis on the copious. I have found that this is the kind of drink that tastes better icy cold, and oddly enough, I really think that crushed ice enhances the flavor versus cubed (it just does!).
Think you don't like whiskey based drinks? I'd say give it a try! I find that with the lemon and syrup, this drink is wonderfully refreshing and not smoky or heavy at all. It's the perfect thing when the weather is warm. And, if you want to theme it to St. Patrick's Day (which is this coming Monday!), you could try swapping out the bourbon for a smooth Irish whiskey. Go for it!
PS – If you live in San Francisco, serious research has proven that the bar at Spruce has the best whiskey smash in the city. I'm telling you, it's all about the ice. Here's how you make it:
Whiskey Smash
makes 1 cocktail
recipe adapted from DrinksMixer
2 wedges of lemon (I cut a lemon in half length wise, then each side into three wedges and used two of them)
2-3 sprigs of fresh mint, or 8-10 leaves
3/4 oz simple syrup*
1 oz water
1 1/2 oz bourbon or whiskey
lots of crushed ice
— mint leaves for garnish
In a cocktail shaker, combine the lemon, mint leaves, simple syrup and water. With a muddler, crush the lemon and mint together until the mixture is well muddled. Pour the bourbon on top, cover the shaker, and shake well until combined.
Fill a lowball glass with lots of crushed ice. Pour the liquid over the ice, and garnish with a spring of mint. Sip and enjoy!
*A note on simple syrup: for this recipe, I made a basic 1:1 ratio simple syrup. The easiest way to do it is to combine equal parts water and sugar in a microwave-safe measuring cup and microwave for about a 1 minute (I used 1/4 cup each water and sugar to make a few of these cocktails). Take the measuring cup out and stir, and the sugar will be dissolved. I think this is easier than making syrup over the stove!
Images by Victoria McGinley for vmac+cheese