So here's an interesting story for you. Twice as an undergraduate student at USC, I got to be one of those screaming fans in the bleachers on a major red carpet event. The first time it happened, it was completely by luck. I think my roommate and I were walking to our room after Sunday brunch in the cafeteria, when an RA passed us and asked if we wanted to go sit in the bleachers at the Emmys and watch the stars arrive. "Obvi," was our answer (however kids said "Obvi" circa 2002). The catch was we had to walk over to The Shrine auditorium (which is literally across from campus) right then and there. I remember I didn't have a stitch of makeup on, I hadn't showered, and I was in a really grotty tank top and shorts. But it didn't matter. I think I somehow ended up on E! later that day in a crowd interview and was semi-mortified to be on national television looking like that.
The next year, I was an RA in a freshman dorm. I got a connection through another RA to a PR person at Fox, who was handling the red carpet bleachers (or something), and managed to finagle 37 tickets to the red carpet. 1 for me, 36 for my residents. I ended up being interviewed by E! again. So if you happened to be watching the Emmys red carpet arrivals on E! in September of 2003, you probably saw me!
Anyway, I got to thinking about both those experiences the other day when I saw a Golden Globes promo, and decided that instead of doing a red carpet review (because let's be honest, you've probably seen about 1 bagillion of those today), I'd share some of the photos I snapped back in September of 2003. True story: I had to scan these all in. I didn't get a digital camera until sometime in 2005!
I'm adding in my own notes on each photo to spare you too much of a Where's Waldo game. Here we go!
The 2003 Emmys were long enough ago that Andrew Firestone and Jen Schefft were still dating. Remember when we thought The Bachelor might actually work? Or wait…did anyone actually think that? (I might've around that time!)
The last season of Friends was about to debut. Crazy, right?
Bryan Cranston was still on Malcom in the Middle (sooo different than Breaking Bad, no?).
Jon Stewart was still awesome.
And in 2003, I could actually still remember what this guy's name was. Recognize this dude? Joe Millionaire? Did anyone watch that awful (but amazing) reality show? Anyway, I had to Google his name, because clearly he's had his 15 minutes, and it's Evan Marriott.
And on the complete other end of the star spectrum, Robin Williams (ironically being escorted through the crowd by a guy I know from college).
At some point I ran out of color film so the rest are black and white. Is it just me, or does Matthew Perry look pretty much exactly the same?
Major SATC swoon moment. Kim Cattrall looked flippin' GORGEOUS. The first half of season six of SATC would've just finished up airing right around this time.
Speaking of a SATC swoon moment….!!! In case you are wondering, the key to getting any celebrity on a red carpet to turn your way and wave is to have a large group of people scream their name as many times and as obnoxiously as possible. Eventually, even if they are in the middle of trying to give a professional interview, they have no choice but to turn around and acknowledge their adoring fans.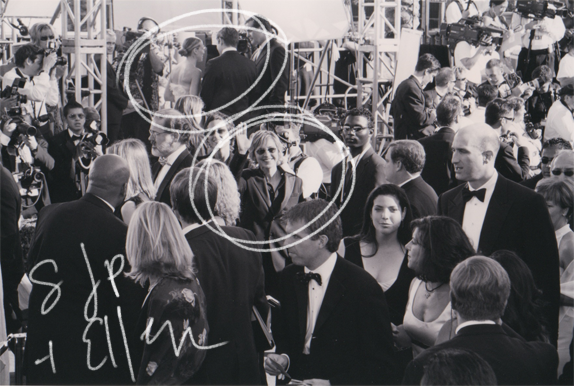 And then SJP and Ellen were within like 20 feet of each other and the 2013 me's head almost exploded.
Simon Cowell refused to wave at anybody. But he kind of pulled it off anyway with that smile and open shirt. Very dapper.
I was within 5 feet of Ray Romano. Not pictured because I ran out of film: when Alicia Silverstone gave me her autograph. I have an entire sheet of paper with star autographs all over it, somewhere in my house.
Debra Messing, looking stunning, and obliging 50+ annoying college girls screaming her name.
Matt Le Blanc, before the indignity of Joey.
I don't watch Shameless, but I hear good things.
CONAN! Towering above the entire crowd. I clearly remember that you kind of couldn't miss him.
Jennifer Garner. How cute were her and Ben last night? When this photo was taken, Ben Affleck was still dating Jennifer Lopez. My, my, how times change!
Crazy college experience, no? Here's another interesting factoid: about 3.5 years later, in May of 2006, I would graduate in the very same building these awards were held in! Hope you enjoyed these photos. It had been years since I had looked at them!
{Top Image Credit: Nancy Cohn Photography via Style Me Pretty; all other images and graphics by Victoria McGinley}