Note to self: limit cross country moves to no more than two in one lifetime. Allowances can be made for any moves completed before the age of 25; after the age of 30 it's a hard and fast rule.
Y'all. Joe and I thought this move to New York would be the easiest thing ever. He grew up in Ohio and I grew up in Texas, so both of us had experienced moves to LA, SF, and then two additional moves within SF once we were there. But I recently learned one of life's truest and most valuable lessons: the older you are, the more crap you have. Oh, and also: you get tired more easily. Suffices to say, I've told Joe to make himself at home, because I will not I repeat WILL NOT be moving out of this apartment for the next 5 years, minimum. Unless he wants to see me rocking a straight jacket.
This whole process has really taken it out of us mentally, emotionally and physically. Just recently I've started to feel like myself again, and I was stunned to realize I had almost forgotten what that felt like, because it's been a long time — longer than this cross country move has taken, for sure. Really, it's not just the move that's created such a disruption in our lives; we've kind of been on high alert for the last 18+ months (the engagement, the quitting of the job, the starting of the company, the wedding planning, the emergency cross town move, the actual wedding, the dog, the wondering if we'd move to New York, the actual moving to New York, the apartment mess). I think I aged an extra five years in the last two. And I'm telling you all this 1) to be honest about how unglamorous entrepreneurship/wedding planning/dog ownership/moving to this glamorously portrayed city has been, and 2) to really emphasize that I think (fingers crossed) that we're finally coming out of the madness and how flippin' happy I am about it. [Insert GIF of me chugging Champagne here]
The good news is, we're making slow but steady progress on getting our house settled. And yes, some apartment photos are ahead!
Don't get too excited, friend. I said slow but steady. I don't have that many pictures of our apartment to show you, because really, can I be honest? This place is going to take a while to put together. Both of us are busy with our jobs and trying to get other parts of our life situated here, and sometimes decor decisions get put on the back burner (though sometimes they don't…more on that later today). We also sold, gifted, or donated a huge amount of stuff from our old apartment, so we're having to make some big decisions as far as storage options go. Additionally, the layout and nature of this space is so different from anything we've ever lived in, that it kind of feels smart to just let it ride for a while until we can be a lot more certain of how we'll live here and what pieces will meet our needs. All this is a nice way of saying I'm not going to have finished, magazine worthy apartment pics for you any time soon. You guys have all been so sweet to ask to see our place, and I know through the magic of blogging sometimes it seems like we can turn this shit around in days…but yeah, that's not happening over here right now. I'm pretty excited for this apartment though (I told Joe it's my favorite apartment we've ever lived in), so I can promise that when it is done, you'll for sure be seeing more of it. Cue photos:
This apartment is really unique in that it's in a converted townhouse. While the width of the apartment is a little narrow, it's nice and long (Lucy loves this for running around). Another bonus that sold me on the space: it's two stories (which in New York is called a duplex). The apartment was actually previously two separate units, but as part of the renovation they just finished, they created this cool stairwell and expanded the apartment. The wood and iron stairwell is probably my favorite feature in the unit. Another interesting thing: the room in the back in the photo on the left used to be the kitchen, so part of the renovation was moving the entire kitchen out of there. That back room is now a small den. In the photo on the right, I'm standing in the master bedroom door and looking down towards the office. All the crap you see piled up in there is still there…like I said, we're working on storage.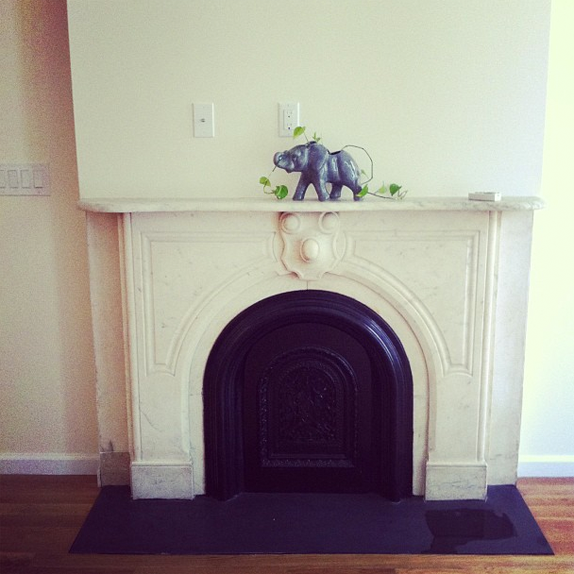 Both the office and the downstairs living room have marble fireplaces! They're non-working, but oh-so-pretty to look at. This house plant is named Ganesh and has been in our lives since 2003. He's kinda funky, but with a history like that, he goes where we go.
My bathroom has subway tile, so I'm happy! One adventure of moving into an apartment in New York: the day before we moved in, we had to scramble to get someone to come out to install AC units, as we didn't have any. This was also the same week that temps averaged 96 degrees…
I took most of these photos right before the movers arrived. This one was taken about twenty minutes after.
And this one about an hour later. By the end of the night, the empty boxes and packing paper completely took over the living room! It took us another two weeks to get rid of boxes on Craigslist and package up all the packing materials — recycling is only collected one day per week here and recyclables have to be bagged or packed just so in order to be taken. It's funny all the quirks you learn about new cities, isn't it?
So, that's a brief (and keeping it real) sneak peek into our new place! Looking at these photos, it actually makes me feel encouraged and proud by how much we've actually done considering how busy things have been. Excited for what's to come…